Saturday, September 17th, 2011 2:48 pm | By Stephanie Woo
My favorite topic is eating. Trying to feed two babies at once is not an easy task, but if you create a safe, child-friendly eating environment, then foster their love for eating AND their love to feed themselves, then your job as mom will be much easier. You will need patience because in the beginning it will be a mess. It really will be. But once they get the hang of it, you will be amazed at what your children are capable of.
To date, my favorite baby purchase has been the weaning table and chairs. It is a child-sized table that is about 24" x 24" and two child-sized chairs. The dimensions on these are very important. I bought mine at Michael Olaf or you can have a carpenter make one for you (email me if you need exact dimensions).  It was about $150 for the table and $100 each for the chairs. These wooden tables and chairs are heavy and sturdy, so the babies cannot move them easily. This is important for safety reasons. If you have particularly rambunctious little ones, you can also screw in iron plates at the bottom of the table and chair to make it even heavier.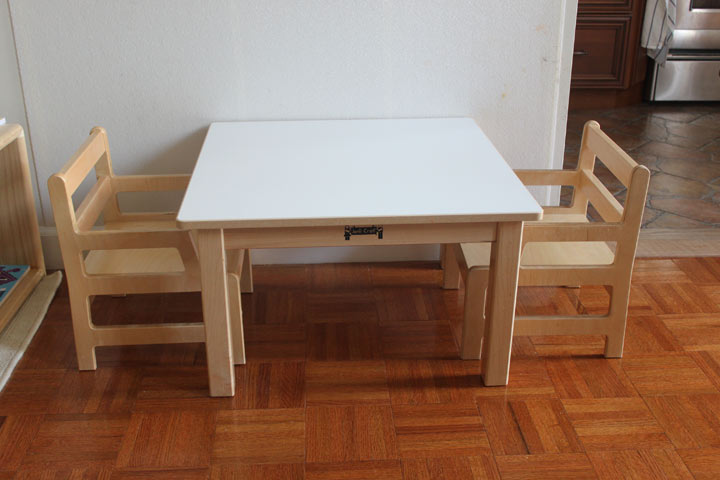 Weaning Table and Chair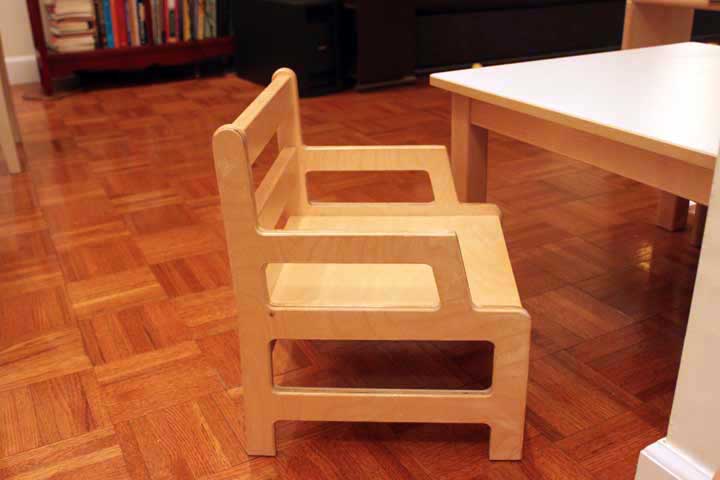 The height of the armrest needs to be correct in order to support young sitters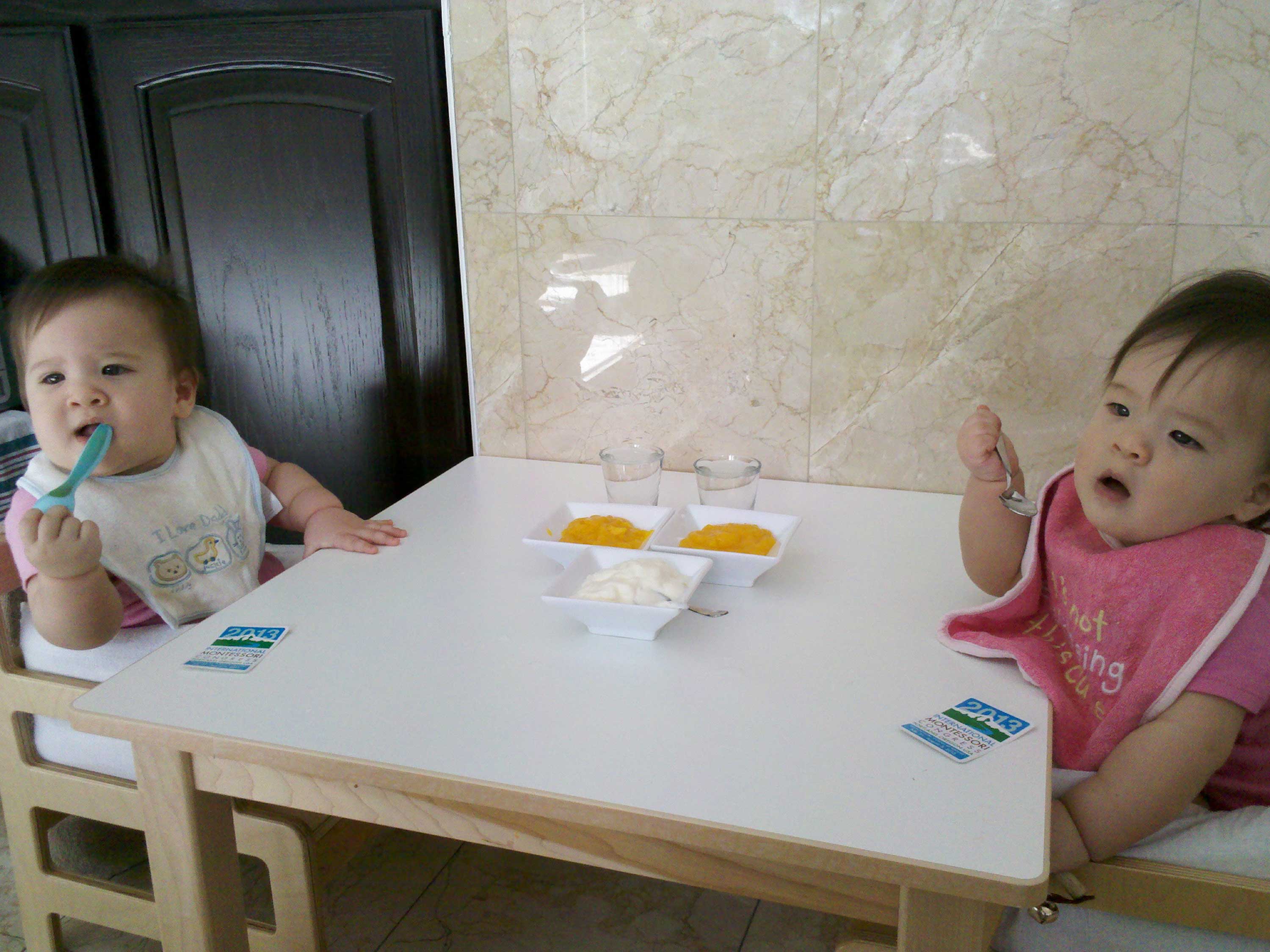 Best time to start using the weaning table and chair is when your baby first starts solids, around 5-6 months. Use small pillow(s) to support them if they cannot sit up by themselves yet. Here is B and M at 7 months. Notice the small pillows that we put on either side of them to support them.
You also need child-sized spoons, small shallow bowls and very small glass cup. Don't use plastic plates and utensils! As your children are absorbing information about the world, give them the best that our world has to offer – give them beautiful spoons (I bought demi-tasse spoons from William and Sonoma and Sur La Table), real bowls (we use small IKEA sidedish/dessert bowls, Corelle bowls are also good because they won't break) and glass cups (shot-glasses are good, I bought mine at Sur La Table). Glass and silverware have a very distinct touch and weight whereas plastic is light and slick. Let your child experience the true pleasure of eating from a young age – and it starts with plates and utensils.
Also, many parents go from bottle to sippy cup to plastic cup to glass cup. Skip all the steps in between and go straight to glass cup.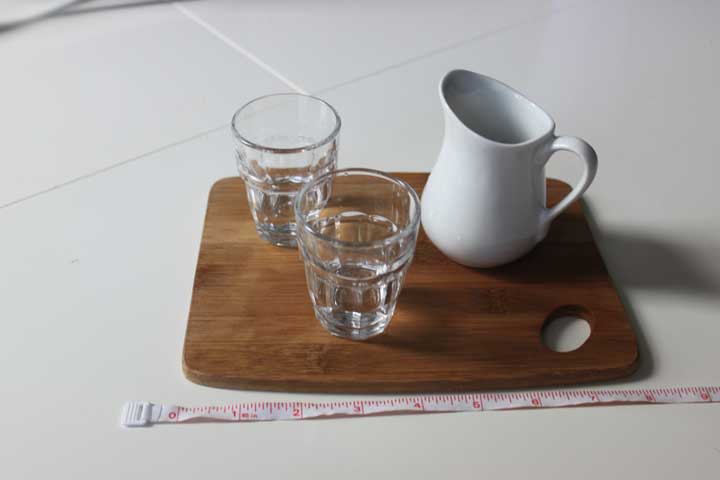 Small shot glasses and water pitcher. All made of glass. A see-through pitcher would be even better so the child can see how much water is left in the pitcher.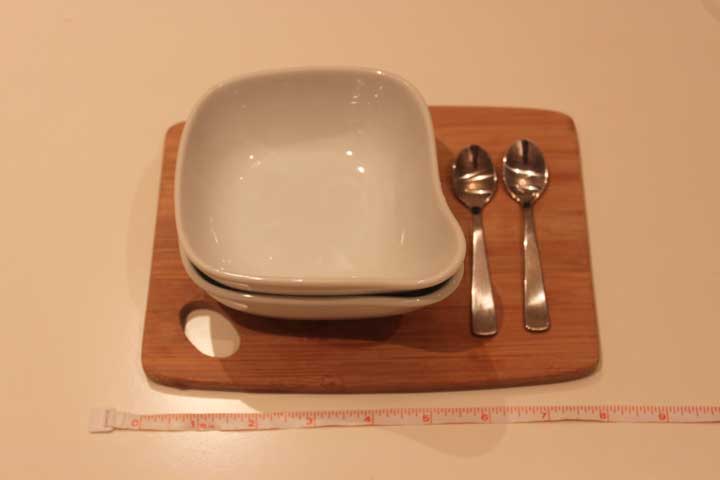 Use bowls that are shallow so the child can see what's inside their bowl. If the bowl is too high up, their vision will be blocked by the bowl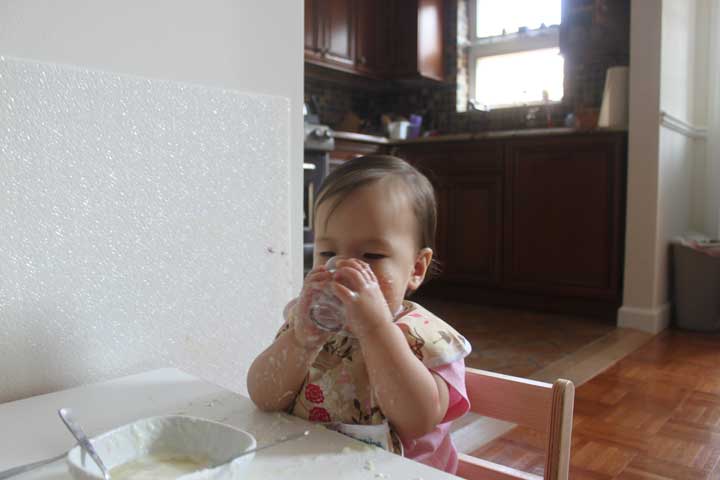 Here is Mackenzie sitting at her table, eating applesauce+yogurt and drinking water!