Friday, October 26th, 2012 3:45 pm | By Stephanie Woo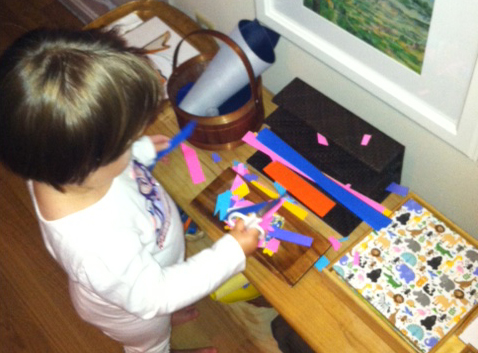 Brooke cutting paper into tiny pieces at 10pm last night
Last night, Brooke wouldn't go to sleep. I could tell she wasn't tired, so I let her come out to play for a while (see picture above). By then Mackenzie was already asleep. When I took Brooke back to her room and tried to leave, she started crying. Not wanting to wake Mackenzie, I stayed with Brooke till she fell asleep at 1130pm. The whole ordeal took 3.5 hours. I was about to pull my hair out.
I woke up this morning extremely frustrated. Brooke came over to give me my usual morning hug and I said, "Who would not go to sleep last night?" Her hands dropped and she frowned. I then asked my nanny if Brooke was doing this during her afternoon naps, she said no, she always falls asleep quickly. Then I said, "But two nights ago you stayed with her till she fell asleep, right?" I added, "Brooke never did this before!" I could tell that my nanny got upset because she thought I was saying it was her fault that Brooke was doing this. What I really wanted, but could not get across, was my desperate need for a solution.
I went upstairs and cooled down. I could tell the way I was communicating was upsetting everyone. I was taking my frustration out on them, but it didn't make me feel any better. And then I remembered Marshall Rosenberg's Non-Violent Communication.  He said to communicate your feelings and your needs. I decided to give it a try.
I went downstairs, picked up Brooke and sat her on my lap. My nanny was there too, which was good because I wanted her to hear it too. I said, "Brooke, last night you did not go to bed by yourself. I was feeling extremely frustrated because I need my freedom at night. Do you know what 'freedom' means? Mama needs freedom at night. Tonight, would you be willing to go to sleep by yourself?"
These simple phrases changed the entire space in the room. My nanny, who looked glum and angry before, had a empathetic look on her face when she said, "I do always pick her up immediately when she cries. Maybe I should wait before picking her up and let her cry a little." Oh, it was such a relief that she was trying to find a solution too.  
Upon reflection, I realize I love Non-Violent Communication because of the way it makes me feel and the reaction I see in others when they hear my words. I was able to 1. express my feelings 2. communicate my needs and 3. make a request. I also love being able to talk to my children in this way – it's clear that they understand every word. This is the kind of communication and connectedness I want to foster in our home.
Brooke clearly had a need last night too.  Looking back, I realize we did not go to the park yesterday afternoon, so she wasn't able to run, climb and use up all her excess energy. Today, I'll make sure to meet her needs. Hopefully tonight, she'll meet mine.
To learn more about Non-Violent Communication: