When most people hear "Montessori", they think of it as a type of pre-school or kindergarten.
In fact, Montessori is a holistic, comprehensive, wide-reaching philosophy and methodology of childcare and education.
As millions attest, Montessori theories and practices may result in more confident, independent, well-adjusted children, while at the same time leaving their parents feeling less stressed, overwhelmed, and overworked.
What we now call "Montessori" was developed through observation and intuition by Italian educator Maria Montessori, who opened her first school in Rome in 1907.
According to Maria, and the experts she trained who now continue her work, children under 6 (especially young children under 3) cannot be taught or educated—and that trying to do so may lead to developmental and behavioral maladjustments.
The Montessori method, therefore, teaches not children but rather parents and educators to: (A) more intelligently and perceptively observe children and determine their needs; (B) create environments and opportunities where children learn willingly and naturally; and (C) provide children with the freedom and autonomy necessary for excellence to emerge.
A Little History: Maria Montessori's Life and Work (1870 – 1952)
Maria Montessori was born on Aug 31, 1870. Her mother was a well-educated woman for her time and her father was a government employee. As a young child, she had a very inquisitive mind. When she approached middle school, she decided she wanted to study engineering, a profession that did not welcome women at the time. As a late teenager, she changed her mind and decided she wanted to become a physician.
Entering medical school for a woman was extremely difficult. Staying in was even harder. For example, because it was deemed inappropriate for women and men to be in the same room while dissecting a cadaver, so Maria had to hire a custodian and dissect corpse by herself at night. In 1896, Maria became the first woman to graduate from the University of Rome Medical School. Her father did not approve of her studying medicine and their relationship was strained for many years. When she graduated with honors and her father witnessed her many accomplishments, they reconciled.
Montessori was very interested in the nervous system and its effect on mental illness. She was given employment at the Orthophrenic Clinic, a clinic that dealt with mental illness. When she went to the local mental hospitals to look for patients to bring back to work with at the Orthophrenic Clinic, she came in contact with a group of mentally-deficient children. The nurse in the hospital told Maria that these children were disgusting because they would throw themselves on the floor looking for bread crumbs after meals. But Montessori saw it differently. She saw that these poor children had absolutely nothing to play with; nothing they could use to manipulate and work their hands. That's why they went looking for bread crumbs and little pieces on the floor so they had SOMETHING to do with their hands. She decided to take these children with her to the clinic and started working with them.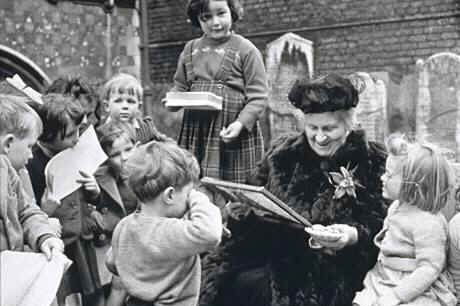 In 1898, she had a son, Mario, with Dr. Montesano, her co-director of the clinic. She did not marry him (scandalous for her time!) and at the request of her mother, sent her son born out of wedlock to be raised by relatives. In the same year, she gave a public speech that impressed the authorities so much that the government created the "Instituto Ortofrenico" – a preparatory school for teachers that Montessori was put in charge of training. In her speech, she said that the role of any teacher is to help guide the student and awaken something that's sleeping inside of him/her, rather than focus on the mistakes that he/she makes. She also said mental work will not exhaust a child if it's given at the right time. Our mind is designed to KNOW if the information is presented in a way that aligns with our interest.
Montessori continued working with the mentally-deficient children she brought over from the Orthophrenic Clinic. After she worked with them for some time, they took the state exam and PASSED. The press made a big deal about her accomplishment. But for Maria herself, she questioned over and over, while everyone was making a big deal about these mentally-deficient children passing an exam, "I was searching for the reason which could keep back the healthy and happy children of the ordinary schools on so low a plane that they could be equaled in tests of intelligence by my unfortunate pupils." (Maria Montessori: Her Life and Work, Standing, p 30)
Montessori's newly-ignited desire to work with normal children became possible in 1907. She was given an apartment in the San Lorenzo Quarters, which housed a large group of children whose parents were away at work during the day. On Jan 6, 1907, the Casa dei Bambini was opened. Casa dei Bambini was hugely successful and received tremendous press coverage. The results produced by these children were so unprecedented, people from all around the world came to see what this Casa was about. In just two year's time, the system she created in this school spread around the world.
Montessori gave her first training course in 1909. This course was attended by some of her most enthusiastic students, like Adele Costa Gnocchi and Anna Maccheroni. Both of these young women were very impressed with Montessori, became her disciples and have made tremendous contribution to the Montessori world.
Montessori's first international training course was given in 1913. At this point, Mario came to live with his mother and became her ardent supporter. From 1915-17, she did two tours of the US. She did a lecture at Columbia University. She also attended the World Fair, where a Montessori classroom constructed inside a glass house was put on display.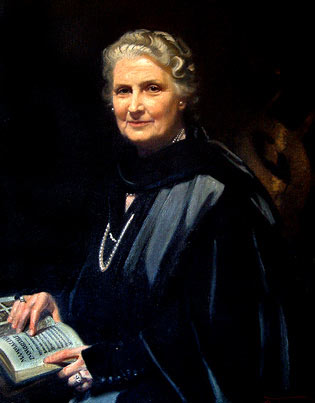 Montessori was still living in Rome during the rise of Fascism. Mussolini said to her, "I would like you to use your methodology to teach my philosophy." She said, "No." So he closed all the Montessori schools in Italy. Montessori left Italy and moved to Spain. In 1936, she fled Spain due to Civil War and moved to Holland, where the Pierson Family gave her a place to live (now the headquarters of Association Montessori Internationale AMI).
In 1929, her supporters started Association Montessori Internationale. In 1939, she was invited by the theosophists to go to India to give lectures. When she arrived in India, because she and Mario had Italian passports, they were considered enemies of the state and could not leave. So between 1940-1945, she stayed in India where she trained thousands of people in India and Sri Lanka.
In 1945, when WWII ended, she went back to Holland. In 1946, she went back to India. In 1947, she went back to Holland again. For many years thereafter, she was very active in helping school start up again in war-torn Europe. On May 6, 1952, while discussing plans with Mario to train teachers in Africa, she died. Montessori was 82 years old.