Friday, May 17th, 2013 6:34 pm | By Stephanie Woo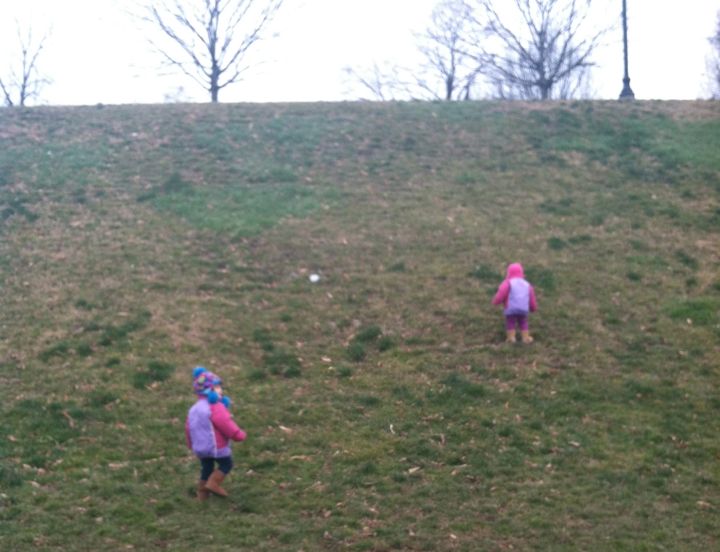 Climbing a big hill in Baltimore's Federal Hill park (2 years old)
When Brooke was 11-months old, she loved climbing stairs. Twice a day, I would let her loose in the staircase of our four-story building and she never looked back till she was at the top. When Mackenzie was cruising at 12-months old, I would take her and her red wagon around a whole NYC block. When both of them started walking, we would go for long walks in the park without a stroller.  
Children are born to adapt. Mexican children can eat hot green pepper off the vine without feeling any pain. A Himalayan child is used to climbing big mountains. An African child can see and run long distances. 
Knowing this, I try to give my toddlers lots of active, physical experiences that push their bodies. I let them experience many different terrains and even try to make it hard for them. Big hills, 1-2 mile treks, difficult hikes – even our driveway is unusually steep, which means walking up and down everyday takes extra effort. 
I'm not trying to train Olympians here. I just gives them experiences and observe how they respond. Before they turned two, I took them up the big hill in the Federal Hill Park in Baltimore. They fell and slip so many times, but they never gave up. By the time we reached the top, I was completely out of breath and swore I would never do that again. But when we reached the bottom, all they wanted was to climb up again. And again. Who knew they would love conquering big hills so much? That steep climb quickly became part of our weekly routine. 
The other day, I told B and M, "Today, we are going to climb a mountain." At the end of the 7-mile paved hike (they were in the stroller for part of it), I asked, "Did you enjoy climbing the mountain?" Brooke said, "Brooke didn't climb mountain." She then pointed to a really steep hill in the distance and say, "I want to climb that mountain!" Walking on a paved road did not qualify as mountain climbing to her! 
Toddlers have way more physical stamina than you can imagine. To them, the upward climb is the most interesting part of a walk and that interest keeps them going. So find terrains that challenge them. Make it hard for them. And start them as young as possible! You'd be surprised how far they can go.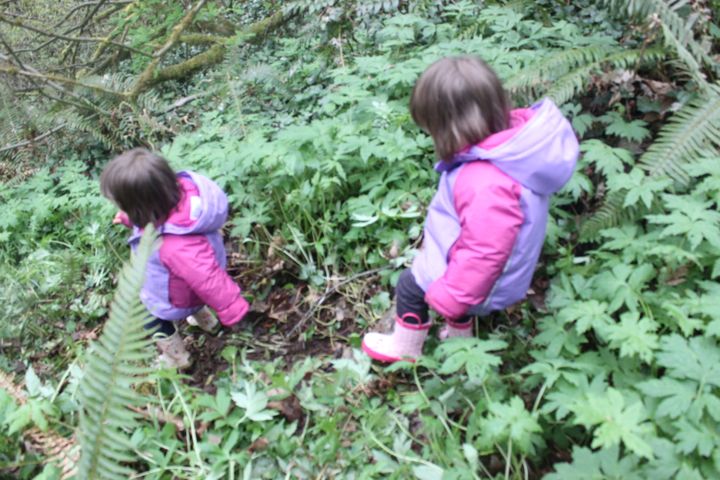 Trekking in the woods behind our house, which was overgrown and had no path before we arrived (2 years 4 months)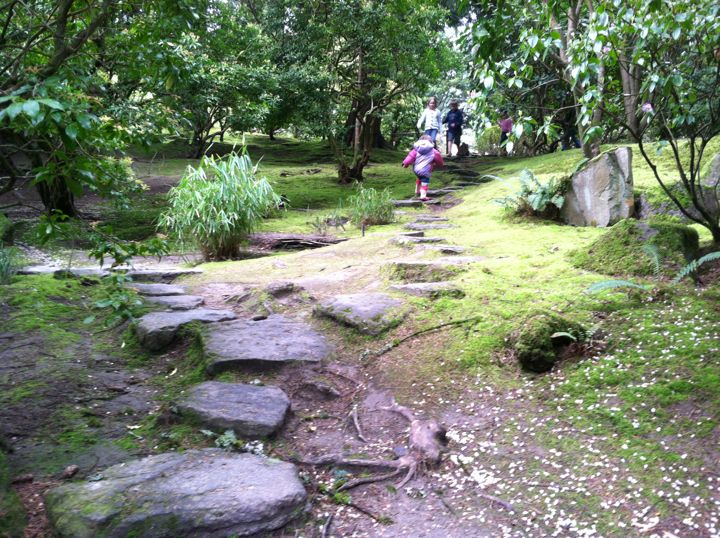 Walking on a stone path with big, uneven stones in Portland's Japanese Garden (2 years 2 months)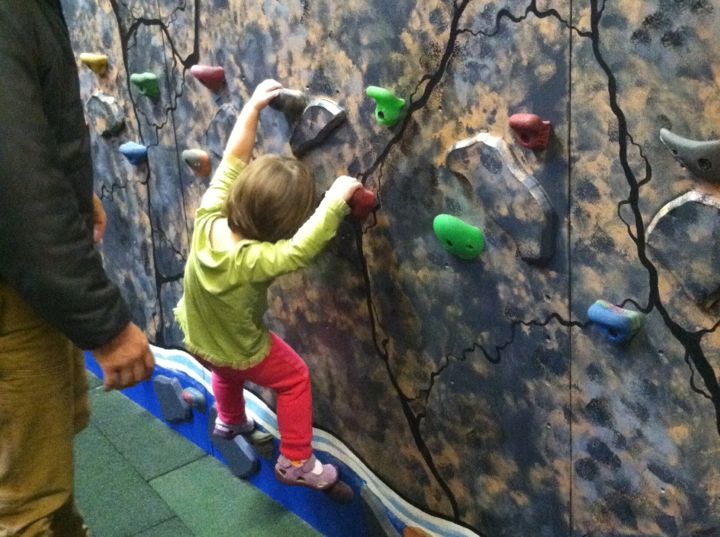 Indoor wall climbing gym (2 years 2 months)