Tuesday, October 2nd, 2012 1:10 pm | By Stephanie Woo
When we first moved to Denver, B and M turned 19 months. That's when I decided to give them their first pair of scissors. They've seen me use scissors around the house and they've always shown an interest in it.
Here is Brooke's first lesson in using scissors.
A week later, here she is, concentrating very hard and making these small cuts. What a victory for her to master this!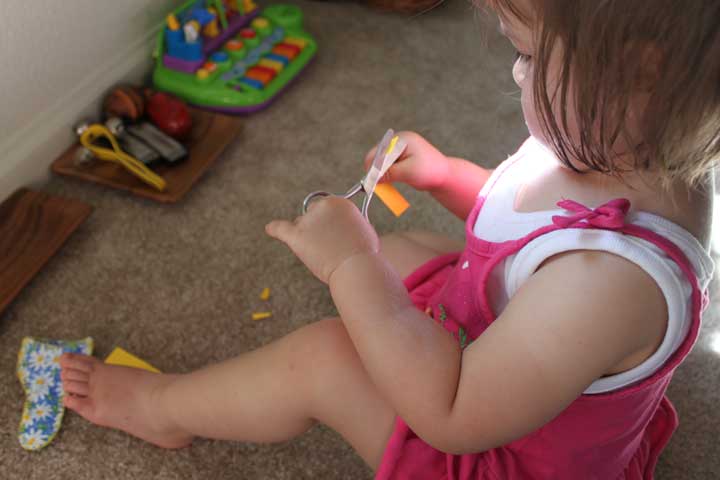 We have our scissors out on the shelf at all times. This is so the children have the freedom to use it whenever they want. I sewed a special scissor pouch (see picture above, it's the one with white and yellow daisies and blue background) to keep the scissors safe. I also keep the scissors in its pouch in a little designated tray. Always start by giving your child long strips of paper slim enough so they can cut through with a single snip. Don't give them thin paper (like printing paper or thin construction paper), cardstock is much easier to cut and will give them more success. For safety reason, make sure the child's scissors has a blunt end!
The right material is key for your toddler, make sure you consider the size, weight and feel of each item before purchasing it. Here's where I bought mine:
Scissor: This one from Montessori Services is great. I also love these scissors from Muji