Monday, April 22nd, 2013 6:47 pm | By Stephanie Woo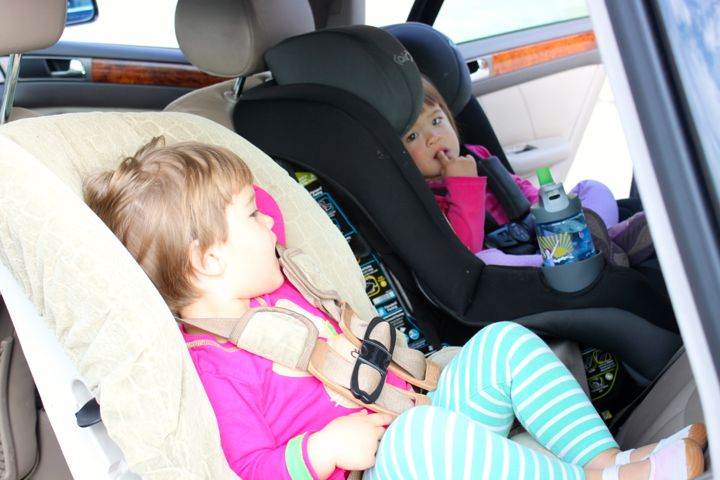 "She always trying to get her way. She's just spoiled," I hear so many parents say about their toddlers. Even my husband said it this morning about Brooke. 
We're parked (illegally) on the side of the road because Mark forgot to buckle in Brooke. I'm kneeling on the front seat reaching back to buckle her in as quickly as I can. She starts whining, "Daddy." She wants Mark to do it because he usually does. I say, "No, Mama is gonna do it." She stops whining for a while. I buckle the bottom left buckle, she cries, "No, No!" I do it anyway because we need to get moving fast. She starts crying and struggling in her seat, trying to unbuckle the buckle. At the same time, I can see she's trying to get her other arm under the right strap. With all that struggling and crying, Mark says impatiently, "She's always trying to get her way."
I know that isn't why she's crying. It was obvious that I wasn't doing things in the order that she's used to. First of all, Mark usually buckles her in and he buckles her in a certain way. I'm clearly not doing it that way. Order is critical to the young child, including the order in which you do something as well as the order of things within the environment. If the order is off or it isn't what she's used to, you can expect a tantrum. She's not trying to annoy you, there simply is a need of hers that isn't met. 
Just to give you an idea of what I mean. Every morning, I need to do these things to wake up: brush my teeth, wash my face, drink a cup of water, followed by a cup of light, sweet coffee. If I miss any of those things in that order, something feels wrong. And then my day is just a little bit off. Unless I've run out of sugar, half-and-half or coffee altogether. Then don't even try to talk to me. Now, imagine you and I lived together, even if you don't have those same needs, you'd most likely respect mine, right? To avoid my morning rage, you might even put my coffee on for me and gently coax me to drink it as quickly as possible! What about your toddler? They have an intense need for order, which you may or may not need. What do you do when they express their anger, frustration and disappointment because their need for order isn't met? 
I decided to let Brooke show me what she needed. First, I unbuckled the bottom left buckle that I had forced on her. And then I waited to see what she would do. She slipped her right arm under the strap and buckled the cross buckle. Now that both arms are under the strap and the cross buckle done, she waited for me to buckle the bottom buckles, which I did. I got it right this time. She sat back, looked out the window and started singing 'Itsy-Bitsy Spider.' We drove off and heard nothing but singing from her the rest of the ride. She knew exactly what she wanted. If I hadn't fulfilled that need, we would've heard crying the whole way home. Instead we had peace and quiet. 
A toddler needs order around her because she's learning how the world works. Once she becomes a six-year old and internalized that order, she doesn't need external order as much anymore. That's why elementary school kids can be complete slobs and still be happy. People call the toddler years The Terrible Twos and Threes. That's because toddlers are misunderstood. They have a need that you and I as adults no longer need and we can't understand what's the big deal. Well, it is for them. And if you're looking to coexist peacefully with your little one, start watching carefully. Next time your toddler suddenly starts screaming, figure out what's different from the way she's used to. Is something not on the same shelf she's used to? Is something not done is the sequence she's used to? Is the day's routine different than usual? If you can figure out the clue to this puzzle, your toddler – and you – will be much happier. And then you'll see, the terrible twos doesn't have to be so terrible.