Thursday, January 23rd, 2014 1:34 am | By Stephanie Woo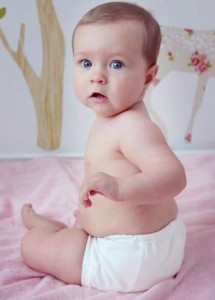 If your child is anywhere between 7-18 months, you should start thinking about potty training. The earlier you do it, the easier it will be. The longer you wait (like starting at 2 or 3 years old), the longer it will take. 
A fellow 0-3 AMI Montessori trained friend, Shahana Gupta of Baby Essentials, created and designed these super soft organic cotton training pants. My favorite part of the design is the band around the legs to prevent leakage. The cheap Gerber ones we wore back in the day when we were potty training did not have this important detail, so most of the wetness ended up dribbling down the leg and on the floor (just telling it as it is!), instead of staying primarily in the training pants. Also, it's thick but not too thick, which is ideal for your baby and young toddler because bulky diapers (and clothing) will inhibit their movement. In those early stages of crawling, pulling up and walking, they need as little resistance as possible in their clothing!
To enter the giveaway, please send me an email titled: I Want To Win the Training Pants Giveaway or enter a comment below and let us know why you want to win! 
The winner will be announced on January 31, 2014.